Do you watch all the Olympics events? Well, that's just very hard to do but, we're giving you a list of all Olympic sports right here. We're sure you're familiar with most. But you just might learn a thing or two about other more obscure sporting events that take place during the Olympics. This list of all Olympics events gives a rundown on what happens during the Olympics.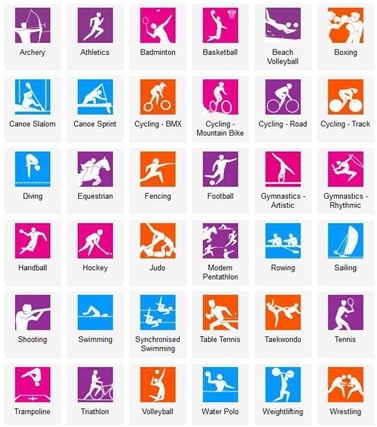 All Olympic sports must gain approval from the International Olympic Committee or IOC for it to be included in each Olympiad. There are several sports that are contested for each edition. As a result, if the sport in question does not gain enough favor from the IOC then it is removed. Likewise, a new and different sport will be added, subject also to voting from the IOC. In the first edition of the Olympics in 1896 they only featured 9 sporting events. In the most recent one in London there were already 26. Check out the list below:
The Mainstream Sports
These sporting events are the more popular ones. They enjoy a huge fan base and competitions can be seen on TV regularly. You would be hard pressed to find people who are not familiar with these sports.
Basketball
Boxing
Football
Golf
Hockey
Rugby
Tennis
Volleyball
The Growing Sports
These events are not yet considered mainstream but they are slowly creeping in on the consciousness of casual sports fans. They're not yet universally recognized but have strong followings in several areas in the world. Their exposure in the Olympics gives the sport airtime and a chance to promote itself.
Archery
Athletics
Badminton
Diving
Fencing
Gymnastics Artistic
Gymnastics Rhythmic
Judo
Rowing
Sailing
Shooting
Swimming
Synchronized Swimming
Table Tennis
Tae Kwon Do
Triathlon
Weightlifting
Wrestling Freestyle
Wrestling Greco-Roman
The Less Covered and Less Watched Sporting Events
Below are the sports that not everyone has heard of. But they have appeared in the Olympics since way back and have become mainstays. They may not be as popular as the other sports but they're just as significant.
Cycling—is a race using bicycles. The cycling event has several categories like the open road, track and mountain bike. The most recent addition is the BMX bike race;
Canoeing—has 2 categories, the sprint and the slalom. The object of this sport is to get your canoe from point A to point B as fast as you can. Sprint is a straightforward race while Slalom necessitates the pilot to navigate certain points around the water;
Equestrienne—or more often known as horseback riding. This sport pits the skill of the rider in terms of riding, driving, steeple chasing or vaulting with horses;
Modern Pentathlon—is 5 events in one: fencing, 200m freestyle swimming, show jumping and a combined event of pistol shooting and 3200m cross-country run;
Trampoline—is a gymnastics event where the gymnast jumps from a trampoline to perform acrobatic stunts.
This list of all Olympic sports covers everything. We hope you learned a little something about the Olympics and the games it features.